Where has the year gone? I know it's a bit of a cliché, but can you believe we are only a few months away from Christmas!?
If, like us, it's a daily battle to get your little ones away from a screen, why not consider getting them a ride-on car for Christmas 2023? Not only do these toys ramp up the fun levels for less than the price of a tablet, but they also help develop crucial motor skills. The boxes are also realllly big, which will add to the wow factor on Christmas morning.
So, if you're looking for something a bit special for Christmas 2023, join me as I navigate the exciting world of kids' ride-on cars, backed by 2023 UK purchase trends, customer feedback and expert insight. I hope I can help you make an informed decision for your little ones by listing our top five best ride on cars scored on customer experience, style, features and value for money, with a few of my personal opinions thrown in for good measure.
Number One
Range Rover Evoque
(The Best Ride On Car for Style)
Style
When it comes to style, the Evoque ticks all the boxes. Not only does it replicate the class of the real Range Rover Evoque, but it even has replica alloy wheels to supercharge your kids street cred. Available in various colours, the pink model is the standout when it comes to popularity amongst parents.
Features
The Range Rover Evoque boasts a modest set of features; as standard, it is sold with LED headlights, a parent remote control, an MP3 music input and realistic opening doors. The real excitement comes with the upgrade options; for parents who want to splash a little more cash, the Evoque can be purchased with EVA rubber wheels for better traction and leather seats.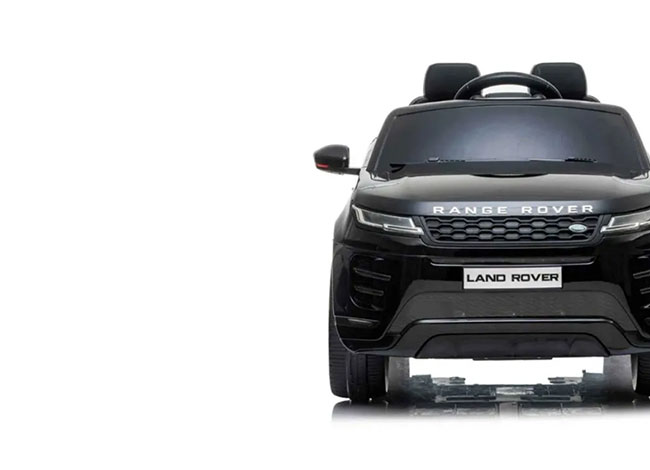 Value for Money
As the Range Rover Evoque has been a bestseller for many years, it naturally deserves a good score when it comes to value for money. Sold for under £200, this ride-on car is stylish, comes with lots of great features as standard, and is perfect for parents looking to get their kids on the road for a relatively small investment.
Pros
Extremely stylish
Good features and upgrade options
Cons
Battery needs to be looked after
Single seat
Number Two
Audi RS6
(The Best Ride On Car for Value for Money)
Fairly new to the market, the Audi RS6 ride-on car quickly became a bestseller in 2023. It's at this point I should say I have never actually seen an Audi RS6 in the real world, but I'm told it's Audi's high-performance version of the German carmaker's popular A6 model. Available in white, grey and black, as with the Range Rover Evoque, it's the pink model that outsells its less vibrant counterparts by two to one.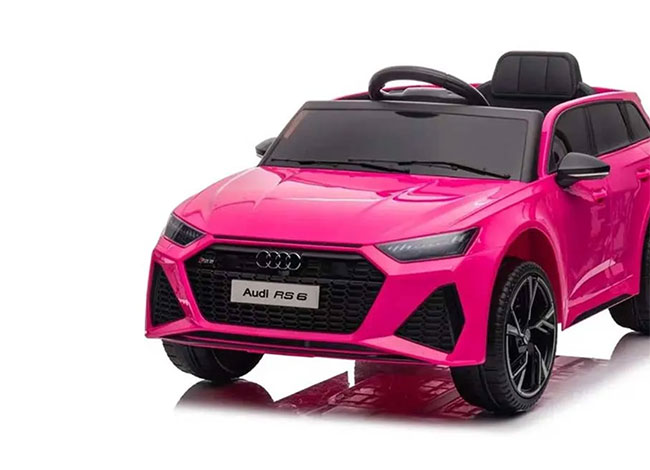 Style
It's a solid ten out of ten when it comes to style. The Audi RS6 kids car boasts all of the high-class design features you would expect from a high-performance Audi. On a personal note, we have purchased a pink version of this car for the new addition to our family, baby Marnie. Although, as of the time of writing, she is only six months old, so we may have to keep it in storage for a while!
Features
The features on the Audi RS6 are fairly standard. It is sold with LED headlights, onboard music, MP3 connectors and opening doors. And to be honest, the model doesn't offer much in the way of upgrades.
Value for Money
Summed up, the Audi RS6 offers fantastic value for money. Generally sold for a modest £180, this ride on car boasts irresistible Audi style and street cred, great performance metrics with a 5km/h (3mph) top speed, and has rapidly become a top seller in the UK.
Pros
Extremely stylish
Great value for money
Cons
Battery needs to be looked after
Could do with more features
Number Three
Lightning McQueen Ride On Car
(The Best Ride On Car for Disney Fans)
Even though the Disney Cars film was first aired in 2006, our Lightning McQueen ride on car still remains a firm favourite with parents; it could be said that some Disney films are timeless! Sold with the iconic lightning bolt racing decals, Rust-eze logo and number ninety-five stickers, this toy car remains one of our bestsellers!
Features
When it comes to features, the Lightning McQueen car doesn't fare well against some of our other bestsellers. It does include headlights; although they are not LED headlights, it also features an "ahooga" horn sound, but that's about it.
Value for Money
The lack of features does mean this car gets slightly scored down for value, but for just under £200, it is still a must-have for all little Disney Cars fans.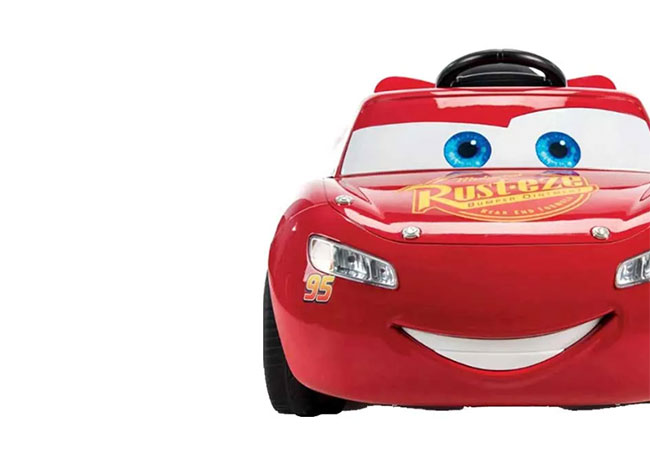 Number Four
Ride On Police Car
(The Best Ride On Car for Realism)
A firm favourite among aspiring little police officers, our ride-on police car is sold with great features that really add a touch of realism to your little ones' ride-on experience. And with a top speed of 5km/h (3mph), it provides a safe but thrilling drive. This toy has been a consistent bestseller for us.
Pros
Realistic police design
Great features
Cons
Battery needs to be looked after
Number Five
Range Rover Velar
(The Best Ride On Car for Customer Experience)
It's not surprising that another Range Rover has made it into our top five ride-on cars for 2023. As with the Evoque, the most popular colours the Range Rover Velar is purchased in are black, white and, of course, pink, with pink outselling the other colours by two to one. Something that always makes me chuckle is that a lot of our customers who purchase the Velar toy generally own the real-life version. The Velar is feature-rich and provides a stylish and exciting ride-on experience for your little ones.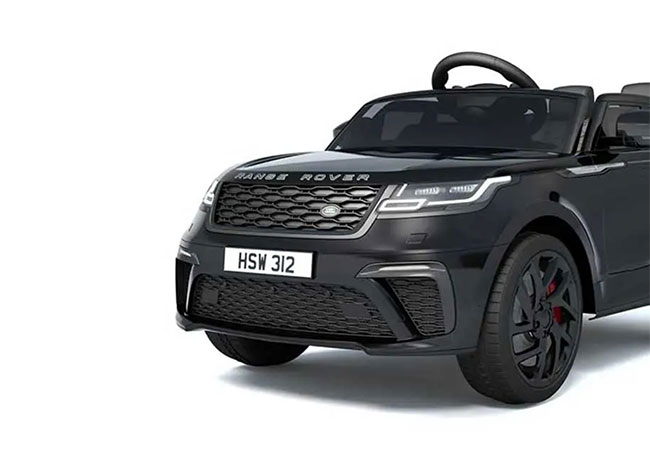 Pros
Great style
Good value for money
Cons
Battery needs to be looked after
Notable Mention
A top-five list of kids' ride-on cars can only be complete when it features a Lamborghini, so that said, we would like to introduce our bestselling Lamborghini Sián. Fully loaded with features such as LED headlights and MP3 connectivity, our Sián really stands out when it comes to style. It features the cutting-edge Lamborghini design you would expect from the Italian supercar maker, which will excite Lamborghini fans, both old and young.
Conclusion
To wrap things up, kids ride on cars are a great way to get your kids away from screens and active for a relatively small investment. When it comes to popularity it should come as no surprise that the top five includes two Range Rovers, with the other three spots taken by a ride on police car, Audi RS6 and Lightning McQueen toy.
About the Author
Hannah Hill
Entrepreneur, and mother of three. Hannah is a toy expert with 20+ years in the online toy industry, founding the Kidaroos website that sells 10,000+ toys per year. Hannah is always looking for new, innovative ways to keep everyone's kids active and energised in a world full of screens and social media and has been featured in publications such as Authority Magazine.